Welcome to Our Wiki!
If you are new, or old, to our wiki, be sure to check out our rules.
Please be sure to check out our announcements to find out what is happening on our wiki.
Thank you - loulou43, Mcqueen9000, and Aqua Jet.
Which Endless Ocean 2 diving location have you dived in the most?
About
Welcome to the Endless Ocean Wiki, started on August 3, 2008 by loulou43!. The Webmaster is currently Mcqueen9000. This Wiki is all about an adventure game which you will take control of a scuba diver in search of sea life and sunken treasure. Please, edit well and check for spelling and grammar mistakes.
This Wiki is for fan fiction and for real in-game articles, so let your ideas be heard , also if you're going to make a fan made article but sure to put Template:DontExist and remember to categorize them on [[Category:Fan Made Articles]]. To see some statistics for this Wiki, please follow this link.
For Other Games, you can go to Game Info.They are working to contain information on every game ever created, especially computer games, but not excluding other genres such as board games, card games, and even sports.|}
Featured Article of the Month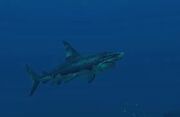 Thanatos is a vicious, man-eating shark, said to be the revenge of Mother Nature.



Announcements
Endless Ocean 2 has been proven more successful than the first game! Mcqueen9000 23:21, June 21, 2011 (UTC)
To see a list of templates(Userboxes) go here--Mcqueen9000 23:22, June 21, 2011
I'm going to include videos about some of the creatures in Endless Ocean!--Mcqueen9000 23:21, June 21, 2011 (UTC)