Welcome to Our Wiki!
If you are new to the wiki, be sure to check out our rules.
Please be sure to check out our announcements to find out what is happening on our wiki.
Thank you - Nocturnalia.
Which kind of dolphin is your favourite?
About
Welcome to the Endless Ocean Wiki, started on August 3, 2008 by loulou43!. The Webmaster is currently Nocturnalia. This Wiki is all about a series of adventure games which you take control of a scuba diver in search of sea life and sunken treasure. Please, edit well and check for spelling and grammar mistakes.
The two main pages about the games in the Endless Ocean series can be found here, for the first game, and here, for the second.
This Wiki is for fan fiction and for real in-game articles, so let your ideas be heard! If you're going to make a fan made article, be sure to put Template:DontExist and remember to categorise your creation as "Fan Made Articles".
For Other Games, you can go to Game Info.They are working to contain information on every game ever created, especially computer games, but not excluding other genres such as board games, card games, and even sports.
Featured Article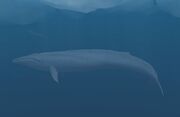 The White Mother, also called the Ancient Mother, is a creature previously thought to be merely the stuff of ancient legends. Now, we know that she is one of an entirely new species of whale, about which little is known. However, no other whales quite like her have been spotted - and there may be more to her than was first thought.