Lapis Lazuli is a precious mineral, sought after in real life for its rarity and vibrant deep-blue colour, that is very important to the main plot for Endless Ocean: Blue World. Several important items are made out of it:
[In-game descriptions in italics.]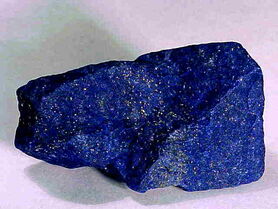 Triton Bracelet: A lapis lazuli band with a whirlpool design and ancient script. This is the item that gives the player the way to enter Triton Village (wait until nighttime, when the undines surrounding it cease being too violent to pass).
Cortica Slate: A lapis lazuli slate found in the Cortica River. One of the Okeanos Tablets. This item is found on the altar inside of the Sacred Chamber, in the Cortica River Upstream.
Okeanos Tablet: Lapis lazuli engraved with strange characters and complex designs. This item is found in Valka Castle, in the Secret Room, accessed through the King's Chamber.
Lapis Lazuli Chip: A fragment of a lapis lazuli craft item found in Ciceros Strait.
Lapis Lazuli Lump: A large lump of raw lapis lazuli found in Ciceros Strait. This is the first lapis lazuli item the player finds, and is used as an example of how to use the Multisensor. It is found in an area of the North Canyon in Ciceros Strait.
The majority of these items are found in Ciceros Strait during the main storyline, although one of the Okeanos Tablets is found in the Cortica River's Twilight Temple. As well as this, a very important story item, the Dragon Flute, is made out of lapis lazuli, and one of the three parts is in Deep Hole, while the other is in the Zahhab Region Depths, found in Osiris' Courtyard, buried with the HD-9. The last part is Oceana's pendant that she is in possession of since the very beginning of the game.
The player discovers the first lump of Lapis Lazuli in Ciceros Strait when learning how to use the Multisensor, and it shows up as being made out of stone.
Gallery
Ad blocker interference detected!
Wikia is a free-to-use site that makes money from advertising. We have a modified experience for viewers using ad blockers

Wikia is not accessible if you've made further modifications. Remove the custom ad blocker rule(s) and the page will load as expected.