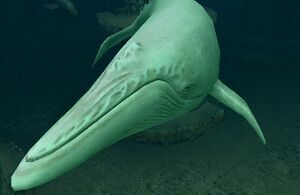 The term "Legendary Creature" is a fan moniker given to the odd forms of sea life that appear in both of the Endless Ocean games. They are differentiated from normal sea life via unique traits, oftentimes morphological aspects that make them quite distinct.
Only two species in the first Endless Ocean are considered "legendary creatures", but in Endless Ocean 2, there are many more, with most of them needing certain requirements to be met before they will even appear to the player.
Endless Ocean places the two legendary creatures it has simply at the end of the Marine Encyclopedia, and the second game places them in the Other Fauna section. In both games, they lack scientific names, the places where these would usually be denoted instead marked with a series of question marks. Of course, some of them are presumably just to be called by the same specific epithet of whatever creature they most closely resemble, but the rest are different enough that they might require further research before this can be confirmed.
In both Endless Ocean games, legendary creatures cannot be placed in the Aquarium. This is with the singular exception of the Ancient Mother in the first game, who can be placed in the Aquarium only after the player has completed their Marine Encyclopedia in its entirety; this means that all three data entries for each creature must be found before she can be placed. Legendary creatures are also unable to be shown to diving-guide clients, as they disappear during guided tours.
Criticisms
Criticisms have come from several players concerning the legendary creatures in both games. One of the main concerns is that they are not very creative, oftentimes just being resizes or recolours of other creatures, sometimes just simple albinism - easily explained, and not very unique. Others have noted that the presence of mysterious, unexplainable, or even implied-to-be-magical creatures can strike a blow to the otherwise mostly-sound scientific realism of the games. This includes the fact that one of them (the Ancient Mother) could even be placed in the player's Aquarium, despite her high status.