The Western Sandbank is one of the two places that allow you to go ashore in Cortica River, the other being the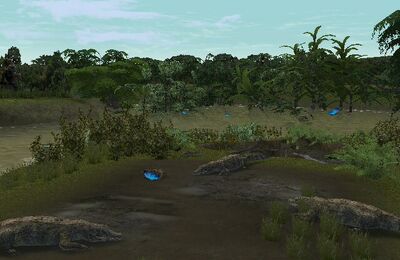 Eastern Sandbank. Stepping out of the water in this area, the player is greeted by a small group of Spectacled Caimans (which are not aggressive while on shore). The entrance to Queen's Lake is further ahead of this area, but the entrance is blocked by a fallen tree (unless you have moved it with the assistance of an Amazon River Dolphin).
Ad blocker interference detected!
Wikia is a free-to-use site that makes money from advertising. We have a modified experience for viewers using ad blockers

Wikia is not accessible if you've made further modifications. Remove the custom ad blocker rule(s) and the page will load as expected.